Doberman Pinscher SOS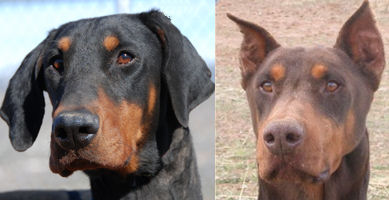 Rescue - Rehabilitation - Rehoming - Refuge
Welcome!
Doberman Pinscher SOS is dedicated to the rescue and rehoming of abandoned Dobermans and to educating the public about the Doberman breed and canine care. We are a no-kill, 501(c)(3) non-profit public charity.
Hundreds of purebred Dobermans lose their homes each year in southern California alone and many are euthanized because there is not enough space in rescue to save them. Especially at risk are those that are injured, sick, or old. The high cost of rescuing these dogs drives many organizations to accept primarily young, healthy or otherwise adoptable dogs into their programs. At Dobie SOS we take the Dobermans that other organizations understandably pass over, and just as importantly, care for the dogs we save and place them into loving homes. We rely solely on donations and adoption fees for this work. How to help.
Most of our Dobermans come from high-kill animal shelters in southern and central California. Some are relinquished by their owners and a few find their way here from other rescues.
Many Dobermans need rehabilitation before they can be adopted: medical, behavioral, or both. Every Doberman receives a full veterinary exam and whatever medical intervention they need. Many dogs arrive with poor socialization skills requiring months of handling with humans and other dogs.
If necessary we provide quality-of-life sanctuary for Dobermans who are not likely to be adopted, for example, Dobermans with advanced heart or spinal problems.
Please check our available list to see if one of our dogs may be right for you. Our primary goal is to place Dobermans into permanent homes that are correct for the particular dog's energy level, training level, and temperament. About adopting.
We are located in rural Kern County CA near Tehachapi, about 2 hours north of Los Angeles and 1 hour east of Bakersfield. We will place dogs anywhere in California and also surrounding states on a case-by-case basis.